Important Dates
Stuart Shils lecture at the Prince Street Gallery: Friday, July 14 at 6 PM
Opening Reception: Saturday, July 15 from 3-6 PM.
Exhibition dates: July 11, 2017 – July 29, 2017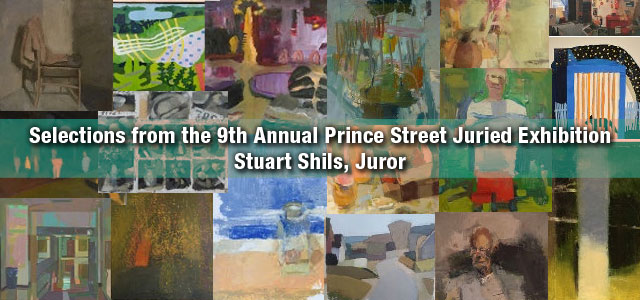 Every year The Prince Street Gallery Annual Juried Competition is open to all applicants working in two-dimensional media. Past jurors have included prominent artists such as Philip Pearlstein, Irving Sandler, Yvonne Jacquette, Robert Berlind, Susanna Coffey, Lois Dodd, and Graham Nickson. Prince Street Gallery is pleased to present this year's juried competition:
A native of Philadelphia, Stuart Shils is a noted painter who has been the recipient of grants and awards from the Pollock-Krasner Foundation, the National Endowment for the Arts, and the Academy of Arts and Letters in New York. He has also been a resident fellow at the Ballinglen Arts Foundation in Ballycastle, Ireland. His work is represented by Davis and Langdale Gallery and steven harvey fine art Projects in New York, and by Rothschild Fine Art in Tel Aviv. He studied at the Pennsylvania Academy of Fine Arts where he presently teaches painting and drawing.
Artists selected for the exhibition by juror Stuart Shils:

Monica Bernier
Lisa Brody
Margo Burian
Jessie Coles
Sarah D'Ambrosio
Nancy Egol Nikkal
Tracy Everly
Lesley Friedman
Lynn Frink
Hilary Goldblatt
Gwen Gunter
Kathleen Hall
Meg Hartwell
Joshua Highter
Ellen Irvine

Sam Jones
Matt Kasabian
Lori Keenan
Keri Kimura
Claire Kincade
Maggie King
Drew Kohler
Genevieve L'Heureux
John Lee
Lucy MacGillis
Pat Mahony
Catherine Maize
Megan Marden
Michael McCaffrey
Mai Mai Pietrowski

Jennifer Pochinski
Lauren Rago
Scott Ramming
Joan Richmond
Patricia Ritchie
Sarah Rodriguez
Mike Ryczek
Joseph Salerno
Isabelle Sanchez
Angela Saxon
Lauren Schiller
Ben Schwab
Bill Sharp
Lisa Steffens
Abigail Synnestvedt